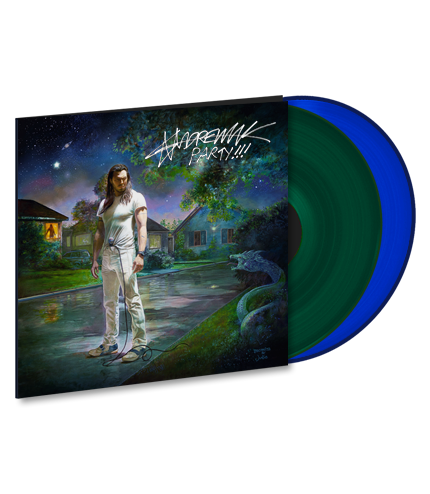 "You're Not Alone" (Double Vinyl LP)
SKU 217U-US
Product Details
ONLY A FEW COPIES REMAINING!

AUTOGRAPHED COPIES AVAILABLE!
SHIPS WORLDWIDE!

"YOU'RE NOT ALONE" (Double vinyl LP)
(Sony Entertainment) 2018


Heavy weight double LP pressed - one disc pressed on GREEN vinyl, the other pressed on BLUE vinyl.

Includes deluxe high-gloss gatefold jacket, complete lyric sleeves, double sided poster insert.

SIDE ONE:
1. "The Power of Partying"
2. "Music is Worth Living For"
3. "Ever Again"
4. "I Don't Know Anything"
5. "The Feeling of Being Alive"

SIDE TWO:
6. "Party Mindset"
7. "The Party Never Dies"
8. "Give Up On You"
9. "Keep On Going"

SIDE THREE:
10. "In Your Darkest Moments"
11. "The Devil's On Your Side"
12. "Break The Curse"

SIDE FOUR:
13. "Total Freedom"
14. "Beyond Oblivion"
15. "Confusion and Clarity"
16. "You're Not Alone"
SIGNED OPTION: Available autographed by Andrew W.K.


***Some autographed items may be slightly worn due to Andrew's hard partying ways. Some of these special items have lived with Andrew on his tour bus and traveled with him around the world. Because of this, autographed items may have evidence of his intense partying.***
Save this product for later