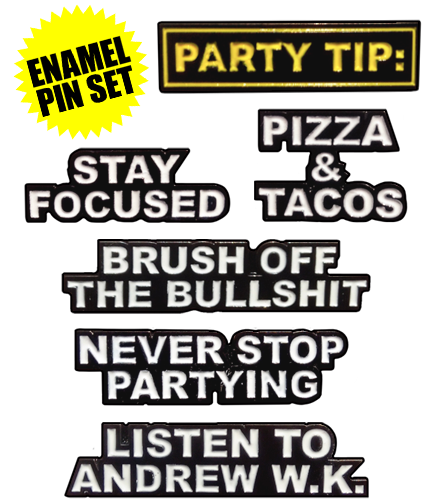 PARTY TIP Six Pin Set
SKU 703
Product Details
Deluxe pin set contains six (6) different interchangeable enamel PARTY TIP pins.
Intended to be combined in pairs, you can create your own PARTY TIP by switching out the slogans to suit your particular party mood and mindset!
High quality metal and enamel construction, approximately 1 - 1.5 inches each.
Each set includes the following pins:
1. PARTY TIP:

2. STAY FOCUSED

3. PIZZA & TACOS

4. BRUSH OFF THE BULLSHIT

5. NEVER STOP PARTYING

6. LISTEN TO ANDREW W.K.
Save this product for later