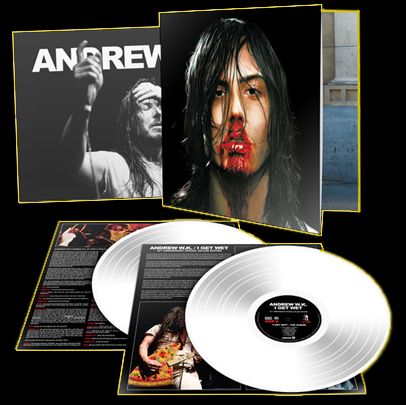 "I GET WET" (Special Deluxe Edition) (Vinyl LP)
SKU 215U
Product Details
SOLD OUT

AUTOGRAPHED "I GET WET" (10th Anniversary Special Deluxe Edition) (VINYL)
(Century Media Records/Island Def Jam/Universal) 2012
2 LP pressed on white vinyl

Gatefold sleeve, full color inserts, 11"x17" poster included
Extremely rare and hard to find! Only a few copies left in our inventory!
LP ONE:

"I Get Wet"- The Original Album

SIDE A:
1. "It's Time to Party"
2. "Party Hard"
3. "Girls Own Love"
4. "Ready to Die"
5. "Take It Off"
6. "I Love NYC"

SIDE B:
1. "She Is Beautiful"
2. "Party Til You Puke"
3. "Fun Night"
4. "Got to Do It"
5. "I Get Wet"
6. "Don't Stop Living In The Red"

LP TWO:
"I Get Wet"- The Bonus Tracks
SIDE A:
1. "It's Time To Party (LIVE)
2. "Party Hard" (LIVE)
3. "Girls Own Love" (LIVE)
4. "Ready To Die" (LIVE)
5. "Take It Off" (LIVE)
6. "I Love NYC" (LIVE)
SIDE B:
1. "She Is Beautiful" (LIVE)
2. "Party Til You Puke" (LIVE)
3. "It Just Got Hotter" (Sundogs Version)
4. "Got To Do It" (Keyboards Version)
5. "I Get Wet" (LIVE)
6. "Don't Stop Living In The Red" (1999 Version)
Save this product for later