My Favorite Bar in the World
Andrew has written an essay for Sean Manning's new book on people's favorite bars called "Come Here Often," and Paste Magazine has an advance preview. Read an excerpt below and click HERE for the full essay.
This essay is excerpted from COME HERE OFTEN edited by Sean Manning, courtesy of Black Balloon Publishing.
A lot of people don't like Midtown Manhattan bars—or Midtown Manhattan in general. For me, it has always been the best part of the city: the swirling whirlpool of personalities and pressures. The place where all sorts of people could be found crammed together—everyone from business workers to construction guys, from tourists to students, from crazy people to wealthy shoppers. It's why I wanted to live in New York City in the first place, and why I worked year after year to make my way closer and closer to Midtown. I don't like the area because it makes sense to me. I like it because it doesn't make any sense to anyone. It makes me feel out of place in the best way. Other parts of the city have lots of people who remind me of myself: similar interests, similar social circles, similar styles and backgrounds. That's too easy and too comfortable. Give me Midtown, with all its off-kilter, commerce-driven chaos. There's no way of knowing who is from where, what they're doing here, or where they're going next.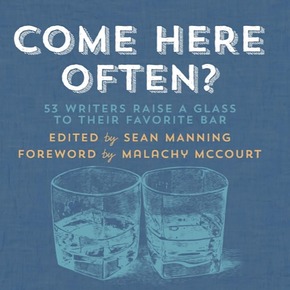 One of my favorite things about Midtown is Gabby O'Hara's Irish pub. I've probably gone to Gabby's more than any other bar in the world. Actually, I've probably gone there more than any other place in the world, other than my own house—well, that might be a slight exaggeration, but only slight.
I never really had a favorite bar before Gabby's. I'd usually order drinks at restaurants or at venues when I was seeing a show or performing my own. Or I'd just go to a liquor store and buy a bottle of something. Why spend $25 on two drinks in an establishment when you get an entire bottle for the same price? But after randomly walking into Gabby's for the first time in 2009, I realized exactly why people do go to bars, and why some of those bars become their favorite places to go, period.
A friend of mine had suggested we meet at Gabby's for lunch. It was a spot he had been to many times, and even though I lived in the neighborhood, it had never really occurred to me to go inside. It's next to a big chain hotel and the exterior is attached to an office building, so I didn't really notice what it was offering. When I walked in, I was shocked by how well-finished and complete the pub looked and felt. It seemed like it could've been there for thirty years, despite being much newer. That feeling of familiarity and worn-in style didn't come from artificially-aged patina or efforts to appear old; it came from the employees, and how perfectly they inhabited the space—as though they, and the bar, had always been there.
Now, for me, what makes a good bar has little to do with the price of the drinks, the selection of drinks available, the clientele, or even the decor and atmosphere; it has everything to do with the bartenders—it all comes down to who's serving the drinks.
This news item was posted on: October 15, 2014